What's going on??
Rapidly running towards the winter, it is a time to rejoice and praise the name of the exulted one. Yes, it is only a short time till we return to the hills for SnowPorn 2002!.

We booked the cheapest flights from Expedia who have been slick, efficient and cheap. The flight is from London to Geneva, via Paris, but it is a juicy price. Hopefully we will still be able to fly and the Air France will still exist...

This years chalet has been booked through Mel at Avaris Tours, possibly the most useful person I know. Our converted farm chalet sleeps nine, but there will be some bedsharing (no change there...). We also have the novelty of hiring bed-linen (not included in the chalet price) for a wholesome £6. As Europe is racing towards the single currency, I am paying for everything in Euros. We will embrace the single currency when we arrive.

I have restored the customary Kit List, the same as last year. I might change it again later. It is in Word, so apologies to those who can't view.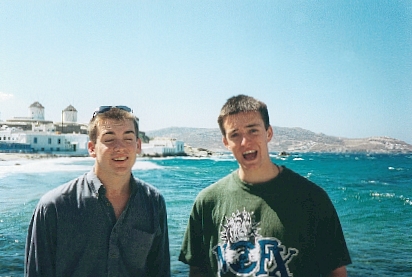 Flight booked, but who's coming?
The list stands as follows:

Chris
Kelly
Prong
Helen
Pixie Lady
Vic
Deano
Karen
Stew

We are now quite a mixed ability group, ranging from novice to dead-cool. See if you can guess who is who...

To check out the latest snow report for La Clusaz, head over to Yahoo.